Stainless Steel (SS) Coil Manufacturers & Suppliers in Ahmedabad
Stainless Steel Coil, Stainless Steel Coil Manufacturer, Supplier, Dealers, Wholesaler, stainless steel coil manufacturers in ahmedabad, Stainless Steel Coils in Ahmedabad, Stainless Steel 304 Coil in Ahmedabad, 304 Stainless Steel Coils Manufacturer from Ahmedabad
Gujarat Project takes great pleasure in being Ahmedabad's top supplier of stainless steel coils. As reputable stainless steel coil suppliers and producers, we offer a wide selection of premium stainless steel coils to meet the needs of diverse industrial applications.
Due to its remarkable qualities including corrosion resistance, high strength, and longevity, stainless steel coils are a crucial part of many industries. Gujarat Project is dedicated to providing stainless steel coils that adhere to the highest industry standards since we recognize the importance of these characteristics.
Stainless Steel Coils Suppliers & Dealers
Our drive to providing top-notch goods has helped us establish our status as suppliers and manufacturers of stainless steel coil in Ahmedabad. Our suppliers for stainless steel coils are reputable businesses with strict quality control practices. This guarantees that the coils we deliver to our customers meet the highest standards for quality.
Our extensive inventory is what distinguishes us as providers of stainless steel coil. We have a large inventory of stainless steel coils in a variety of grades, sizes, and finishes to help our clients select the ideal product for their particular requirements. We can supply the stainless steel coils you need for manufacturing, construction, or automotive purposes.
Our team of professionals is always available to help you choose the best stainless steel coil for your project. We recognize that each customer has specific needs, and our aim is to offer specialized solutions that not only meet but also beyond expectations.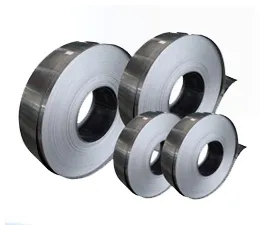 | | | |
| --- | --- | --- |
| Grade | : | 304, 304L, 304H, 316, 316L, 316H, 316Ti, 321, 309, 310, 347, 409, 410, 420, 430, 904L, etc. |
| Types | : | foils, shims, chequered plate, perforated sheet, strips, etc. |
| Finish | : | HR, CR, 2D, 2B, BA, SATIN, MATT, PVC coated, etc. |
| Thickness | : | 0.1 mm to 125 mm |
| sizes | : | any size as per customer requirement upto 2500 mm width is possible |
| Make | : | JINDAL, SAIL, IMPORTED |
| nickel alloys | : | model, inconnel, hast alloy, nickel, cupro nickel, titanium, duplex, super duplex, etc. |
Manufacturers & suppliers of stainless steel coils (ss) sheet in Ahmedabad (Gujarat) India. at low price